Gastric & Breast Cancer
DOI: 10.2122/gbc.2002.0005
ORIGINAL ARTICLE
February, 2002


Accurate Prediction of Site-Specific Risk of Recurrence after Curative Surgery for Gastric Cancer

ABSTRACT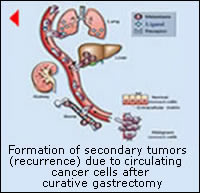 TNM-staging according to UICC/AJCC classification accurately predicts overall survival for gastric cancer but provides no information about risks of recurrence. We report here original prospectively documented data of overall and first site-specific recurrence with a median follow-up of 92 months after curative extended (D2) resection for gastric cancer.

A simple classification into three groups based on both pathological serosa-/node status (first group: both negative; second group: either serosa- or node-negative cancer; third group: both positive) demonstrated highly significant differences in multivariate analysis [RR 7.07 (95% CI, 2.36-21.17) and 16.19 (95% CI, 5.76-45.54), of second and third group vs. first group respectively]. The most frequent sites of recurrence were the peritoneum for serosa-positive and distant organs for node-positive/serosa negative cancers whereas the risk of local and/or nodal recurrence was low.

This proposed classification appears to be simple for the introduction into medical practice and potentially useful towards the development of recurrence-oriented preventive target therapies.



Comments and questions? Please contact us.

The Gastric Breast Cancer Network Center is owned, published, and copyrighted © 2002. All rights reserved.