Closed surgery includes laparoscopy-assisted resection and robotic surgery based on the Da Vinci surgical system. Laparoscopy-assisted resection in the treatment of solid cancers is increasingly replacing conventional open surgery. Although in the current evidence-based medicine, longer follow-up data are required for guidelines recommendations by International non-profit Organizations, the future undoubtedly lies in closed surgery.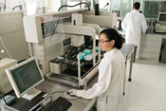 With the aging of the population, a new study [1] estimated an increase of the total number of cancer patients by 55% (11,8 million in 2005 to 18.2 million in 2020) in the United States. Lungs, colorectal or gastrointestinal overall and prostate cancers, which can be treated by robotic surgery, are already among the most common malignancies (Table 1, Fig 1A&1B). Therefore, it is plausible to forecast the major interest in robotic surgery by public health systems and private sector, regarding safety and cost-effectiveness analysis.
Can robotic surgery further improve postoperative quality of life (QOL) in patients with solid cancer? Is there some expectation and hope that robotic surgery might improve, apart of QOL, also oncological outcomes in patients with gastrointestinal cancer? Given the high mortality and increasing trend in the incidence of these tumors , this article describes the future perspectives of robotic surgery.